Snowden viral marketing campaign in Vienna attracts international imitators
It all began on Wednesday 3 July at Vienna Schwechat airport. A driver was waiting for a certain Mr. Snowden shortly before the arrival of a plane from Moscow. The man quickly attracted attention. After all, the media are full of breaking news about Edward Snowden, the NSA whistleblower on the run from the USA. And the aircraft of Bolivia's President Evo Morales which had to stop over in Vienna on that day added more fuel to the fire, with speculation that Snowden could be on board.
Of course the driver could not answer questions about whether he was waiting for the Snowden of media fame, due to his obligation to protect his client's privacy. However, more and more photographs were taken of him and his sign with the presumed famous name on it, which spread like wild fire through the social media with rumours of the famous "Vienna visit".

The social web spread the message in the blink of an eye
Hundreds of Tweets on Twitter, countless posts, comments and photo shares on Facebook and a thread with almost a thousand comments on Reddit are just some of the highlights of the viral dissemination of the meme. This photograph on imgur has now generated more than half a million views, while vienna.at reported on the incident within a few hours with several hundred social shares of the article.

However, the entire campaign was in fact cleverly planned guerilla marketing by Flughafentaxi-Wien.at, which has now had international repercussions. On 9gag an extremely successful imitator is doing the rounds and the German Pirate Party is using the subject for its own wide-ranging campaign. In airport arrival halls in Berlin Schönefeld, Cologne/Bonn, Düsseldorf, Nuremberg, Berlin Tegel, Hannover, Munich and Stuttgart, drivers are also waiting with "E. Snowden" signs in order to promote the Pirates' party manifesto, which aims to actively encourage whistleblowing (video on youtube.com).
Monday 15 July 2013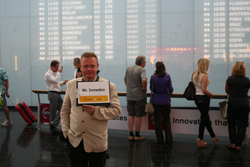 Arrivals hall at Vienna's Schwechat airport
For editorial or private purposes we provide this photo for free. Right of use and copyright remains with Flughafentaxi-Wien.at. Following sources indicated in the publication of the picture:
Flughafentaxi-Wien.at