Your way from Vienna airport into the city
The comfortable, the easy and the cheap!
Once arrived at Vienna Airport, passengers already have the greatest part of their journey to Vienna or the surrounding area behind them. But there remains one important question: how can passengers – and their luggage – get to their hotel or destination in the centre of Vienna comfortably and cost-effectively? The international airport is some 16 km to the east of Vienna in Schwechat. The quickest and easiest way to get to the centre of Vienna from the airport is by public transport or by taxi.

The most comfortable and – depending on the time of day – probably quickest way is by taxi. With prices starting at 25 Euro, this is the most expensive means of transport, however, and in addition has to be reserved to get the special airport tarif.

There is also a range of further public transport options, such as the City Airport Train, which at a journey time of only 16 minutes is the quickest route to the centre of Vienna. Prices for the City Airport Train are only around 11 Euro if the ticket is bought online.

The Vienna Airportlines bus is another option: a ticket costs 8 Euro.

If passengers already know exactly where they wish to go and/or where their hotel is, they can use the S-Bahn S7 train to reach their desired destination. As far as price is concerned, the S7 is the cheapest mode of transport at just 3,90 Euro. The S-Bahn is the right choice especially for passengers who can alight near their hotel or wish to change directly for the Vienna U-Bahn underground railway system.

Choose the best means of transport from Vienna Airport to the centre of Vienna according to where you want to go.
Rapid connections in Vienna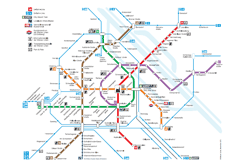 | Transport | Price |
| --- | --- |
| Express train S7 | 3,90 |
| Bus (Vienna AirportLines) | 8,- |
| CAT (City Airport Train) | 11,- |
| Airporttaxi (only by reservation) | ~ 33,- |
| Taxi | ~ 45,- |
Links/Downloads

Vom Flughafen Wien in die Stadt

De l'aéroport au centre ville
Dall'aeroporto al centro di Vienna

Del aeropuerto al centro de la ciudad

Из аэропорта в центр города